[su_spacer]
Full Biography
"I've been a fan of John Beal's for years! John is a wonderful "A-List" composer, conductor, arranger, and musician and should be on everyone's First Call list as a conductor for recording sessions and concerts." 

~Award-winning Composer/Conductor William Ross.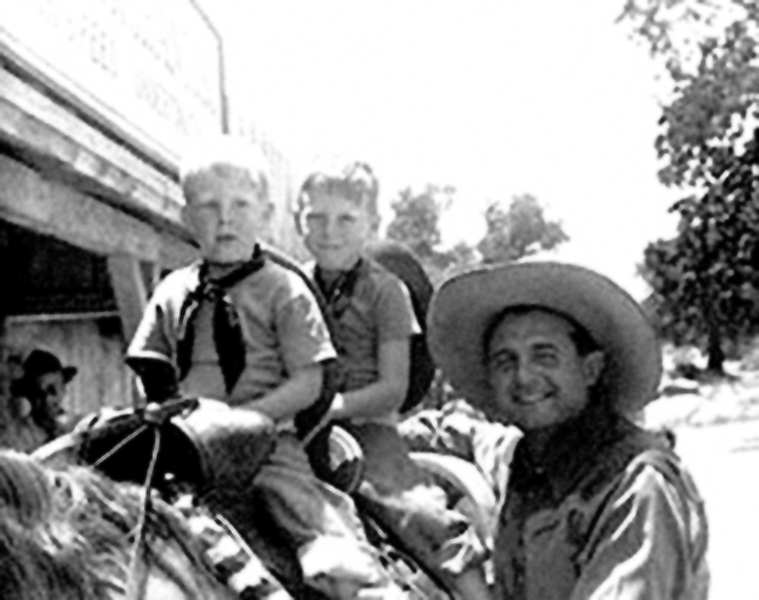 Born in Santa Monica, California, and surrounded by music in the family home, John Beal was no stranger to the entertainment industry.  His fraternal grandfather Ralph R. Beal was one of the pioneers of the very first television broadcasts with a career ranging from leading the Stanford band to the recording of Leopold Stokowski's famous RCA concerts, to helping design the multichannel sound for Fantasia.
John's early years were spent in the booming San Fernando Valley, when cowboy westerns were being filmed from North Hollywood to Corriganville and from the Chatsworth's rocky peak to Vasquez Rocks, he attended school with the children of numerous stars of the growing television phenomenon and even his cub scoutmaster was actor Duncan Renaldo (The Cisco Kid). Family friend western bad guy actor Harry Lauter was a frequent visitor and comic Lou Costello lived only a few blocks away.  In what may have been a propelling influence, John was selected to be one of the child guests on the TV show, "Art Linkletter's House Party."  Early on, the family moved to La Canada, California so John's father could be closer to his work at unmanned space exploration's Jet Propulsion Laboratory, where he supervised design and construction of the first deep space simulator.
Beal's first introduction to musical instruments was short-lived. John admits, "My parents had given me a child sized drum set for Christmas when I was five years old. The heads only lasted one day." His first musical studies began on piano at age 6.  At age eight, John made his first professional dollar as a soloist in a classical boy's choir. After trying the trombone ("My arm wasn't long enough for last position"), John switched instruments to drums at age nine studying with studio drummer Stan Hollingsworth. His passion for performance was stirred by La Canada Junior High music teacher Lawrence B. Bellis.  "Larry Bellis taught us not only how to play musically and passionately, but all the essentials of stagecraft and working with an audience in small group performance, even including barbershop quartets. It was an awesome time for us all."
John was a pre-teenager when he made his first nation-wide television appearance as a musician with another future composer, Richard Bellis, in a Dixieland band on Dick Clark's "Teen Scene USA" and "The Steve Allen Show."  John's parents said he never stopped in his pursuit of excellence in music, either practicing his drums or improvising and composing on the piano for hours at a time.  "Looking back, my parents either had extraordinary patience, or were rendered slightly deaf by their love," John laughs.
John refined his skills continually, studying with big band drummer Irv Cottler (Frank Sinatra), studio percussionists Bernie Mattinson and Emil Richards,  world-renowned percussionist and composer William Kraft, Harry Partch scholar Danlee Mitchell and ethnomusicologist Craig Woodson. By age 15, John was teaching drums at a music store in Pasadena alongside such A-list studio musicians as Jim Keltner and Gary Foster. John says, "I had to take a bus because I wasn't old enough to drive, but was teaching grownups.  I had no idea this was unusual at the time."
Throughout school, John was consistently in regional honor bands and orchestras, including time as first chair percussionist in the MENC All Western States Honors Orchestra. He even played percussion in a professional accordion orchestra. He led his school's pep band and wrote all the drum cadences for the swing-style marching band, many of which are still being used to this day. In fact, UCLA incorporated some of his work into their drum line.
In his senior year of high school, John was featured as a drummer on a float in the Rose Parade, played drums with Bob Crosby and the Bobcats at Ben Pollack's on the Sunset Strip and was selected by competition to perform with the Hollywood Bowl All-Stars Jazz Band at the Hollywood Bowl.  John graduated with honors from John Muir HS in Pasadena, California, and was recently named to the school's Alumni Hall of Fame.
John attended San Diego State's music program but soon left to get back into performance. "It simply wasn't a good fit. It was a program focusing on grooming teachers and discouraging  performers. My composition professor said he'd give me an A if I would teach him jazz drums. And when I got a call to go on the road as a drummer with a major television variety show, a professor called my parents and told them 'Don't let your son go into performance, it will ruin his life forever,' I bailed and went to work in Hollywood."
At the height of the Vietnam war, John enlisted in the United States Marine Corps and returned home from combat in Vietnam, decorated for heroism, bravery, valor and gallantry by the President of the United States, United States Marine Corps and the Republic of Vietnam. (See separate Military History page)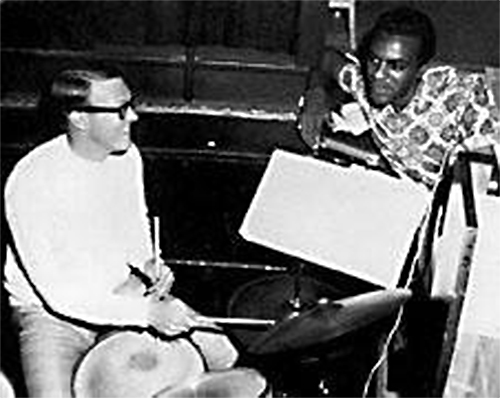 Continuously in demand upon his return, John worked primarily as a drummer in clubs on Hollywood's famed Sunset Strip and on the road with singing stars such as Johnny Mathis, Frankie Avalon and Leslie Uggams, but was soon tapped as a music director for stage, television and recordings.   Initially conducting and arranging for vocal groups such as The Establishment, The Doodletown Pipers, The King Cousins, The Nabors Kids and The Kids Next Door, he was also the music director for live stage acts during the opening of Walt Disney World in Florida and the conductor for the park's grand opening ceremony television presentation on NBC.
John quickly found himself working in television and on concert tours, conducting and arranging for stars such as Olivia Newton-John, Ella Fitzgerald, Gladys Knight, Raquel Welch, B.B. King, Linda Lewis, The Captain & Tennille, David Soul, Linda Lewis, Mitzi Gaynor, Phyllis Diller, Shari Lewis, Peggy Fleming, Jim Nabors and Teresa Graves, and even helped create and produce Hollywood's legendary transgender "Cycle Sluts" Revue at the famous Whiskey A-Go-Go on the Sunset Strip. "This group had the most amazing song-writing team and it was a real hoot working with these outlandish personalities."  Hollywood's most famous celebrities of the era, including Lucille Ball, Sally Struthers,  disco divas, producers, managers and agents like Allan Carr (Grease, La Cage Aux Folles, Village People, Joan Rivers, Ann-Margret) and Roy Gerber (The Beatles, Bette Midler) commandeered the star booths night after night.
John regularly worked as guest conductor on "The Tonight Show with Johnny Carson," "The Merv Griffin Show," and "The Mike Douglas Show."  Other credits include conducting on the Emmy Award-winning special "Swing, Out Sweet Land!" starring John Wayne, "Ed Sullivan's Armed Forces Tour" in Asia and the South Pacific, producing and conducting live and televised musical groups and consulting on music recording for more than twenty television specials or mini-series, including Richard Bellis' Emmy Award-winning score for "Stephen King's IT."
An accomplished film music conductor with thousands of hours in front of orchestras in Hollywood and around the world, award-winning film and television composer John Beal is as at home on the concert stage as he is in the recording studio. He has conducted a wide and diverse variety of shows and film scores with many of the world's greatest musicians in venues stretching from London to Japan, and throughout the United States, including Los Angeles with the Hollywood Studio Symphony Orchestra. Mr. Beal is the founding general manager and producer of the Hollywood Symphony Orchestra, shepherding it through its debut season, and is now its consulting television and concert producer.
John was first inspired to seek a career in film music by famed silent film theatre organist Gaylord Carter. "Sitting right with him while he improvised scores to the most famous silent films of all time on huge theatre organs was an astonishing experience and embedded a deep sense of theatrics in my heart forever."  Encouraged to follow his dream by neighbor and family friend, five time Oscar® nominated composer George Duning, who took John with him to scoring sessions, John's other mentors include Academy-Award winning composer Dominic Frontiere, Disney's Oscar nominee Buddy Baker, Emmy Award winning composers Earle Hagen and Billy Goldenberg,  Fred Werner, and two-time Emmy award nominee, music editor Ken Johnson.  Mr. Beal's conducting mentors were Academy Award-nominee and multiple Emmy Award-winning Ian Fraser and twelve-time Emmy nominee Nick Perito. During this period, John also went through UCLA's film scoring and music business programs.
While working in the record industry, ghost-writing and orchestrating for busy Hollywood composers, John was discovered by composer super-agents Al Bart and Stan Milander and signed by Gary LeMel (President, Worldwide Music for Warner Bros.), for his first theatrical film scoring assignment, the comedy Zero to Sixty produced by Kathie Browne and Darren McGavin, and featuring Joan Collins.  At the same time, John embarked on a successful career in television, composing music for numerous hit shows including "Vega$" with Robert Urich, "Chicago Story" with Dennis Franz, "Eight is Enough" with Dick Van Patten,  "The Goodtime Girls"  with Annie Potts, "Happy Days" and "Laverne & Shirley" with Ron Howard, Henry Winkler, Penny Marshall and Cindy Williams. At that point,  John had scored 35 theatrical or television films and documentaries, 26 major network television series or specials, and was music director for over 20 major network specials.
Because of his diverse musical background, John is fluent in the languages of jazz, classical, contemporary, electronic and world music.
At the suggestion of Gary LeMel, Beal was tapped by Hollywood's marketing guru and "Godfather of Trailers," Andrew J. Kuehn of Kaleidoscope Films (Jaws and other major hit films) to work with him in the film trailer industry. Kuehn and Beal collaborated on the very inception of today's modern film trailer format, and Beal has long been recognized as the man who gave contemporary trailers their musical voice and template.  His creative teaming with Andrew Kuehn on trailers lasted more than two decades, and also included Kuehn's feature documentary, Terror in the Aisles.  John never fails to credit Andy Kuehn with his amazing career success.  "Working with Andy was a major change in focus for me, but opened up the tremendous opportunity and challenge of composing and conducting in completely different styles of music week after week," says John.
John opened Reeltime Music in 1984 and is recognized as Hollywood's leading creator of original scores for theatrical and television marketing campaigns.  He composed original custom scores for over 2,000 theatrical marketing projects. John's seemingly endless list of credits, including campaigns for such hit films as Aladdin, The Matrix, The Last Samurai, Star Wars, Titanic, Black Rain, Black Hawk Down, Forrest Gump, Ghost, Hamlet, J.F.K., The Hunt For Red October, In The Line Of Fire, The Mask, True Lies, We Were Soldiers, and Planet of the Apes, show his incredible versatility. Trusted by virtually every major director and studio to write original music to promote their films, Daily Variety box office results show the financial success of film campaigns for which he contributed original score is literally measured in hundreds of billions of dollars.
Working with mentors Buddy Baker, and the Walt Disney Imagineering Team led by Marc Davis, John composed and arranged music for the Carousel of Progress, America Sings and Country Bear Jamboree at Disneyland and Walt Disney World.  Other projects include all the original music for Enchanted Village theme parks, Cineplex-Odeon, First Artists and Regent Entertainment logos, commercials for Apple, Sugar-Free Dr. Pepper, Disneyland, Royal Crown Cola, NASDAQ, Amgen, Intel, Microsoft, MCI, IHOP, Armour Star Bacon, Ben & Jerry's, The Stratosphere Hotel, Fox Family, FX, NBC, FlexJet and Hidden Valley Ranch Dressing. His unique talents also contributed to the award-winning interactive game "Zork: Grand Inquisitor," and themes for MSN Internet. In 1999, his music was selected for featured programming on Air Force One for President Bill Clinton.
As a recording artist, John is featured on Sonic Images, Silva Screen, Cinerama, edel America, Opus Pocus, Intrada Records, Reeltime, GNP/Crescendo and BSX Records labels.
In 2001, Reeltime Music was rebranded as Reeltime Creative and expanded its services to include consultation in all aspects of theatrical creative advertising, branding, graphics, trailers, web design and internet marketing. Reeltime Creative has produced creative advertising materials for over one hundred domestic theatrical releases.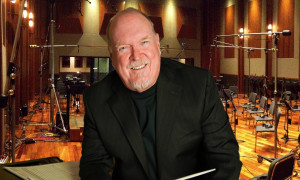 At the same time, John served as Director of Planned Giving and Major Gifts, for the Cecil B. DeMille family and Julie Andrews sponsored Hathaway Children and Family Services, a $20 million agency, and was responsible for recruiting celebrities and corporations, Individual and Major Gifts, Planned Giving, Communication and Marketing.
ASCAP composer and publisher John Beal served under Elmer Bernstein and John Cacavas as a governor of the Composers & Lyricists Guild of America, pre-cursor to the Society of Composers & Lyricists.  He served two terms as a governor of the Los Angeles chapter of the National Academy of Recording Arts & Sciences with a term as alternate National Trustee and is a member of the NARAS Producers & Engineers Wing. Mr. Beal is a Platinum member of the Society of Composers & Lyricists, the Academy of Television Arts & Sciences in both Music and Commercial peer groups, the American Society of Music Arrangers & Composers, American Composers Forum, Recording Musicians Association Los Angeles,  Conductors Guild, Production Music Association and a life member of the American Federation of Musicians.  Other organizations include Veterans in Film & Television, Veterans of Foreign Wars, and the American Legion.
Currently living on the California coast, Mr. Beal is married to Helene Nielsen Beal and, when not conducting, enjoys the rocky coastline and attending live theatre, symphony and opera concerts in Los Angeles and San Francisco.